Ready for one of the world's premier performance marketing conferences? Pack your bags to Barcelona for the AWE Conference! This two-day event promises to be an unrivaled platform for industry professionals looking to stay ahead of the game. Read on to find out what is waiting for you in Barcelona 2023!
Let's start by saying that Affiliate World Europe is more than just a conference, it's a thriving marketplace filled with abundant opportunities to propel your career forward. With over 120 advertisers, 40+ traffic sources, and 170+ affiliate networks in attendance, the conference provides fertile ground for forging new partnerships, exploring innovative business models, and expanding your network of connections. Moreover, the conference attracts marketers generating over $100k per month, showcases the fastest-growing social platforms of 2023, and offers insights into the fastest-growing Shopify stores.
With over 5,000 attendees from more than 110 countries, Affiliate World Europe is a melting pot of diverse talents and expertise, so you get a unique opportunity to network with the brightest minds in the industry.
Book a meeting with our team for great networking on the show. We will be waiting for you at booth C22!
Beyond the conference halls, attendees of the Affiliate Conference can explore Barcelona's vibrant neighborhoods, soak in its Mediterranean charm on the city's golden beaches, or indulge in retail therapy at fashionable boutiques and bustling markets. The city's pulsating nightlife presents a multitude of options, from trendy rooftop bars with panoramic views to legendary nightclubs that keep the party going until dawn.
Barcelona is an excellent blend of historical charm and modern comforts, offering so much to explore and enjoy. Since you've chanced to be spending some time in this beautiful city, we'll guide you on where to go and what to try in Barcelona – you'll remember this experience for a lifetime!
For those into stunning architecture
You absolutely must start with the outstanding architecture, courtesy of the late, great Antoni Gaudí. The Sagrada Familia Basilica, his most famous work, is a breathtaking sight and an absolute must-see. You should also explore Park Güell, which boasts a splendid view of the city and lovely mosaic details, as well as Casa Batlló and Casa Milà, two Gaudí-designed buildings that showcase his unique style.
For art enthusiasts
Barcelona is home to some world-class museums. The Picasso Museum, for instance, has one of the most extensive collections of the artist's works. For a different flavor of art, visit the Joan Miró Foundation. Located on Montjuïc hill, it not only houses many of Miró's works but also provides a fantastic view of the city.
For true gourmets
Barcelona is also famous for its vibrant food scene. Be sure to visit the Mercat de la Boqueria, a bustling market filled with local vendors selling fresh produce, seafood, meats, cheeses, and other culinary delights. Here, you can sample traditional Catalan dishes and immerse yourself in the local food culture. Also, don't forget to try the tapas and pintxos bars in the Barceloneta district or El Born – you'll be amazed by the rich flavors.
More adorable places to go sightseeing
Take some time to stroll along the beachfront in Barceloneta. It's a wonderful place to relax, people-watch, and catch the sunset. For a green respite, check out Parc de la Ciutadella, which also features the beautiful Cascada Monumental fountain and Barcelona Zoo.
Lastly, don't forget to wander around the Gothic Quarter (Barri Gòtic) with its narrow medieval streets filled with trendy bars, clubs, and Catalan restaurants. It's a vibrant spot and a great place to experience Barcelona's nightlife.
Enjoy your time in Barcelona! It's a city full of life, culture, and color, and we're sure you'll find it as captivating as we do. But beyond the beautiful spots of the city, Barcelona also offers a fantastic opportunity to network with industry leaders, exchange insights and experiences, and build truly prospective partnerships. Below is a list of amazing events that are a must-visit! Since we are completely enamored with extensive networking, AdsEmpire is sponsoring the best of them! Intrigued? Let us reveal what awaits you…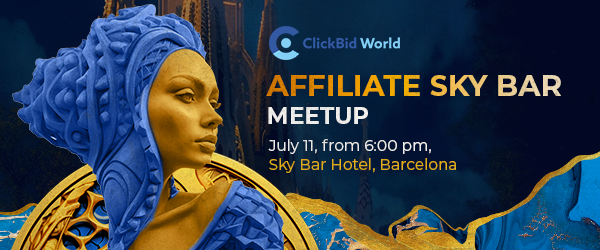 ClickBid MeetUp – July 11
Meet over 500 industry leaders, representing diverse fields like performance marketing, super affiliates, and ecommerce, at a top-flight gathering – the ClickBid MeetUp! It's set to take place in Barcelona for its 5th edition. This high-level networking event, proudly sponsored by us, will be held at the Sky Bar Plaza Catalunya, a world-renowned rooftop bar. You'll have the opportunity to engage in business discussions while enjoying welcome drinks, Spanish tapas, and stunning panoramic views of the Mediterranean city. This premier business event is slated for July 11th.
Place: Sky Bar Plaza Catalunya
Time: 6-10 PM
Affiliate Networking Series – July 13
How about networking with the world's top affiliates, all while enjoying live music and entertainment? This is the right place! ANS provides an ideal environment for growth and the development of new partnerships by hosting an exclusive networking event in Barcelona on July 13, 2023. The program includes a speech from a successful affiliate marketer and a chance for attendees to get inspired for new business ideas. The evening continues with an auction in support of Ukrainian volunteer organizations, followed by a dinner featuring a perfectly matched tasting menu from a luxury restaurant.
Conversion Club – July 13
The Conversion Club is hosting the Affiliate Drinks Meetup on July 13, 2023, at a secret venue in Barcelona, Spain. Regarded as one of the summer's most-anticipated events, this meetup gathers top affiliate marketers and eCommerce entrepreneurs worldwide for intensive networking, establishing new professional contacts for business growth, and engaging in excellent entertainment and drinks.
Place: Secret venue
Time: 6-10 PM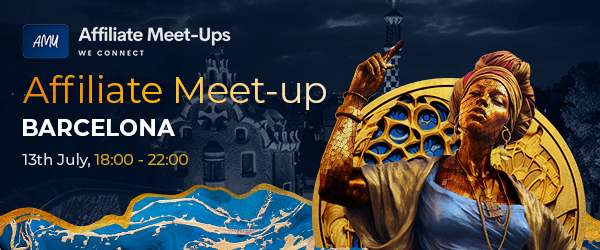 Affiliate Meetup – July 13
An unparalleled opportunity for affiliate marketers to network, gain industry insights, and enhance their skills will take place at the Affiliate Meet-up in Barcelona on the 13th of July. As one of its sponsors, we are excited to back this event that's perfect for those new to the industry, as well as seasoned professionals looking to push their business to the next level. It will conclude with an open bar in a relaxed environment for further networking and discussions. Don't miss this chance to share experiences, ask questions, and gain valuable feedback from leaders in the field!
Place: Ocana bar
Time: 6-10 PM
The vibrant city of Barcelona, the capital of Catalonia, has established itself as a premier destination for international events and conferences, making it the perfect backdrop for the upcoming Affiliate World Conference.
Don't miss your chance to be a part of the world's #1 performance marketing conference. Join us at this fantastic event in Barcelona!