Are you a webmaster or an affiliate looking for new revenue streams? The most important thing in this line of work is to find an offer that would provide you with well-converting traffic that is easy to find and manage.
If you're looking for a type of offer that will always be popular and isn't that competitive yet, take a look at online dating. Follow this guide to learn more about online dating offers, and how to find the one that's right for you.
Why dating?
The dating niche is one of the most stable niches in the affiliate industry, which existed long before others, such crypto or gambling, were created, and still shows the same good results. The niche hasn't even undergone many changes in approaches, funnels, or creatives. Here you don't have to rely on luck as in some other niches. As long as you bring a certain amount of traffic and convert it well, you'll see relatively stable results in leads per day which translates into a stable income.
Dating niche may not have the highest payouts, but this industry does have a ton of money. The global revenues of the dating websites and apps market are measured in billions of dollars and keep growing exponentially.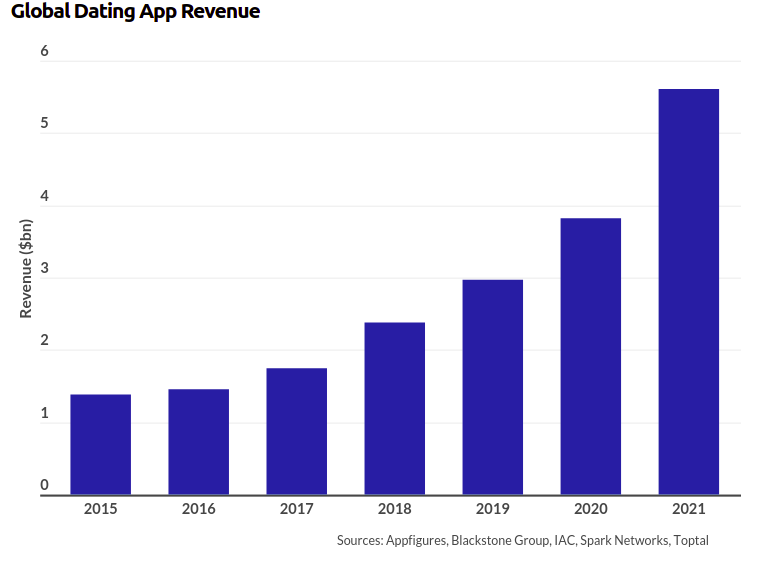 Even smaller dating websites and apps that do not have as high profits as Tinder does are open to affiliate programs. These smaller companies make the bulk of traffic arbitration offers and most prefer to pay per lead instead of paying out a percentage of profits.
What this means for you as a webmaster is that you can receive a decent revenue with a constant stream of traffic that may not even be as valuable for your partner. You'll get paid a flat fee for each registration of a qualified lead, regardless of whether they end up depositing money or not.
If that sounds promising, here's a brief guide on how to find a good online dating offer.
Choosing the partner program
The first step towards making a profit on online dating offers is choosing a good partner program. The thing is, most offers are not available directly, at least not for smaller players on the market. To work with a dating offer, you'll need to first sign up for a partner program like AdsEmpire.
Therefore, choosing a trustworthy partner program is crucial for making a profit in this niche, or any other niche, for that matter. Here are four major factors that you need to pay attention to when choosing the right partner program.
Look for programs that focus on dating
There are hundreds of partner programs out there. Some offer to work with multiple niches, while others focus closely on a single one. Even if you're working in multiple niches, you may consider choosing a partner program that focuses on each niche.
The thing is when a company focuses on bringing specific offers to their partners, the odds are, these offers will be much more valuable. A company that brings offers in more niches would have to spread its attention between so many offers that it would be hard to find something new and unique.
A company that focuses on just one niche is keeping its hand on the pulse of the industry and will provide its partners with new offers among the first. In addition to that, it may provide beneficial rates for the partners.
Quality support
One of the most important aspects of choosing a proper partner program is checking the quality of the program's support. Support is crucial because some questions must be resolved fast, otherwise, webmasters can lose money. When considering whether to work with a partner program, drop a few lines to their support service.
If the response time is fast and their willingness to resolve your issue is high, you know you're in good company. A partner program like this will make sure that whatever problem you're facing is solved quickly, and you won't have to worry about late payments.
Regular payments
Late payments or lack of payments is another major issue that many low-tier partner programs face. An issue like this can make or break your experience and your profit with a program. If a company conducts payments late regularly, it may be a sign they're experiencing financial problems. In case the company does not have the best standards, it may liquidate when the next payment period comes and leave you with nothing.
Sadly, it's not always possible to tell whether a partner program will be trustworthy in this respect or not. The only way to check that is to read online reviews about the program or ask around on professional forums of Discord communities. When it comes to AdsEmpire, the company hasn't missed a single payment as of yet.
Smartlink
Lastly, you should prioritize services that offer Smartlink. This technology makes sure that you're not missing any profit on your traffic, even if it wasn't the best for the particular offer you're promoting.
You can't always predict what type of leads come to you. It may happen that a certain lead is not suitable for the offer you were promoting, but is perfect for another one. With a regular distribution program, they'll simply leave without generating profit for you. With a Smartlink system implemented by AdsEmpire, these leads will be redirected to another offer.
Choosing the offer
Once you've chosen what partner program you're going to be using, the last thing you need to do is to choose the offer itself. Here are the major things you need to be focusing on.
Payment plan
The first and foremost factor you should consider is the payment plan an offer can provide. The most popular payment plans are PPL (pay per lead), PPS (pay per sale), and RevShare.
Revenue share is a great way to conduct payouts, but it's a bit lacking in this particular niche. The thing is, many leads will end up not generating any profits for the dating websites. Most will only use the free plan. And even if the plan is good, it's very rare that it would cost more than $60 per month.
In this case, you will get pennies on the dollar if you choose revenue share as the payment model. The most popular and profitable model is PPL or pay per lead. In this model, the offer pays for each qualified lead that meets the requirements and registers on the site.
If you take a look at the online dating offers available on AdsEmpire, you'll see that most offers work with PPL payment model.

There are two options in the PPL payment model: DOI and SOI. DOI means you get paid only when the lead confirms their email address, SOI offers pay once the registration process is over. Leads do not need to confirm their email address with SOI offers.
Naturally, you'd want to start with SOI offers as this provides a better pay rate. But if you're confident that you can get your hands on a source of highly-converting traffic, you may try working with DOI — typically these offers pay more.
Location
Location can be an insignificant factor if you know how to get started in different locations and work with unusual languages. However, if you work with a couple of locations and can get any type of traffic from this location, it can be important.
Look for offers that match your preference, and you'll get a much easier start. Another thing to consider when choosing the location of the offer is how competitive the location is. If you're going to be using doorways or PPC ads to drive traffic, you may want to check how much competition there is.
If you happen to find a location that has a decent payout for a lead and can be dominated rather quickly and cheaply, it's your goldmine.
Landings & pre-landings
Next up is the quality of offer's landing pages. If you find an offer that pays good but its landing page does not look like it would convert a lot of people, you may have to reconsider your choice. Your main moneymaker in this niche is quantity, not quality. In case a page doesn't convert well, the quantity may suffer.
You can always check how well a page converts by testing a couple of offers simultaneously. However, if you only want to stick with one, give the landing pages a look and decide for yourself whether they will be good for you.
Another thing to consider when looking at landing pages is how many landings there are. Even if there's only one landing page, it should appeal to multiple demographics. Some websites appeal to the female audience by providing love stories. Others, like IGetNaughty.com, are focused on audiences that are looking for a short love affair.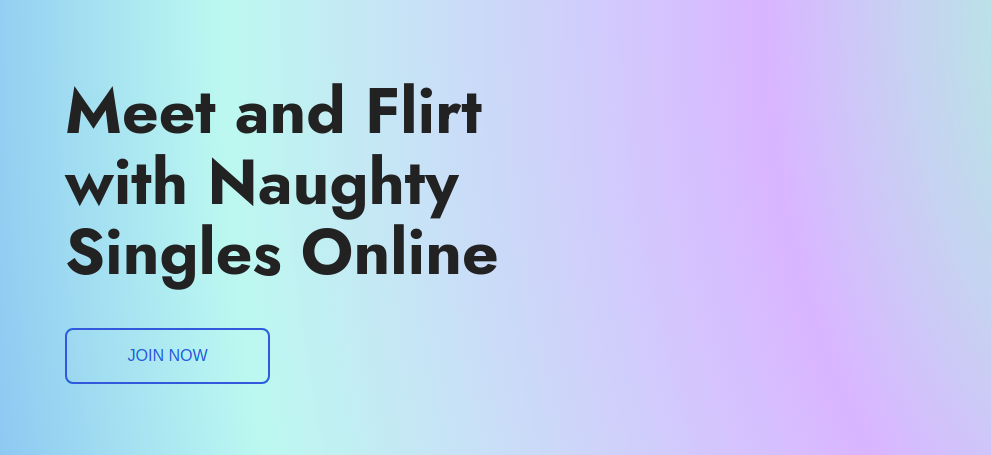 Disambiguation of offers on location or platform
This factor can be a positive and a negative, depending on where you stand on this. Some webmasters prefer offers to be broken down by location and platform because they can focus on one type of traffic. Others prefer offers to be unified into one that does not distinguish between locations, platforms, and other factors.
Whatever your preference is, consider this factor when making the final choice.
Best practices of traffic arbitrage for dating offers
Now that you've chosen both the partner program and the offer, it's time to apply and get down to work. On AdsEmpire, you can expect your application to be accepted within 24 hours. Meanwhile, you can freshen up your knowledge on how to do traffic arbitrage for this niche well.
Push notifications
Doorways and PPC ads are still a good way to drive traffic to offers in the online dating niche. Another source of traffic that is very popular with the webmasters who work in the niche is push notifications.
This type of traffic is great because it can have a visual element that will attract men to click. Even in 2022, a picture of a pretty woman you can meet can do wonders for your click-through rate.
Diversifying traffic streams
When using push notification traffic, consider doing a disambiguation of types of users to provide them different types of content. For example, your content can be broken down to ONS and marriage, or simply involve different types of women.
Prepare different types of ads that focus on different users and user needs, and you will be able to get more leads than just one type of ad. After all, personalization is everything in modern digital marketing.
Pre-qualifying leads with pre-landing
Another good idea is to have a pre-lending that can filter out certain types of leads. For instance, a common requirement in dating offers is that the leads are 21+ years old and are male.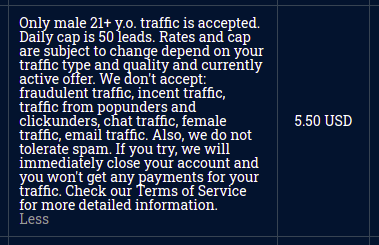 There can be different requirements, and you should pay close attention to them. If you get the company a lead that confirms their email but doesn't meet the requirements, you're not getting paid.
You can pre-qualify leads by creating a landing page that goes between your ad and the final destination. Most commonly, these types of intermediate landing pages contain a test that can pre-qualify the lead.
If your requirements are for the users to be at least 21 years old, male, and from US, you can create a questionnaire that asks these questions. When all questions are answered, it would display a success message like "Great, 50 potential dates are waiting for you at this site" and redirect them further.
Are online dating offers right for you?
Online dating offers are booming on the arbitrage market right now. Since the pandemic hit, people have been relying on dating websites more and more when regular meetings places were on lockdown. This industry is growing rapidly and is eager to share its profits with you!
Pick an offer now and test the waters before the market has become saturated!